Hello World Fair attendees! Welcome to this little corner of the fair, dedicated to Iowa!
Now you might be asking yourself.. where is Iowa? Well we are located in the Midwest area of the US.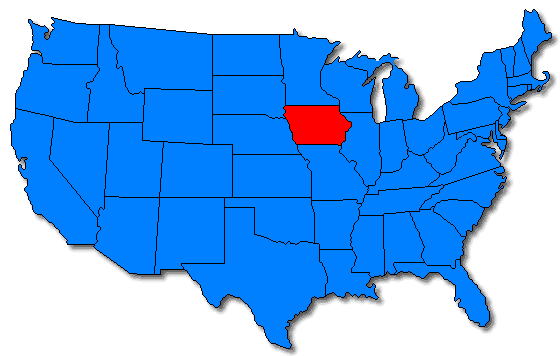 Iowa is bordered by the Mississippi River on the East, and the Missouri River on the West, and we're the only state that is bordered by 2 rivers. 
In colonial times, Iowa was a part of French Louisiana; its current state flag is patterned after the flag of France. After the Louisiana Purchase, settlers laid the foundation for an agriculture-based economy in the heart of the Corn Belt (also why we're known as the "Corn State"). 
Climate
We're high enough on the globe to get LOTS of snow and cold weather during the winter but we're also low enough that when summer time comes around we get plenty of high temperatures and humidity. So climate wise we're kinda in the middle, although our winters do tend to hang around for a bit during the spring. It's actually funny because during spring, Iowa can be warm temperatures all around and sunshine for 2 days and then the next day we have snow covering the ground. It's annoying and strange at first but us Iowan's have gotten used to it  
Cities and Schools
The capital of Iowa is Des Moines, and it's probably the biggest city in the state. We have a lot of what we call twin-cities here which just means 2 towns connected as 1. So Des Moines is actually Des Moines and Urbandale connected but it's all called Des Moines xD
We have lots of different schools here but our top 3 are University of Iowa, Iowa State University (ISU), and University of Northern Iowa (UNI, the university in my town.) University of Iowa is a really big medical school and is know for have a lot of top doctors graduate from there, ISU is a big agriculture and engineering school, and UNI is known for their teaching program. We also have Wartburg College, and Luther College which are both private Christian colleges. Wartburg is well known for their music departments xD 
List of Colleges in Iowa:
Attractions
* John Wayne (an actor) was born in Winterset, Iowa and there is a little museum there dedicated to that. 
* There was a movie with Clint Eastwood (another actor) filmed in Madison Country called
The Bridges of Madison County
. As the name of the movie states, there you can find all the covered bridges from that movie. 
* We have the Amana Colonies which are listed as a National Historic Landmark. I will talk about those in another thread.
*Northwest Iowa is home to some of the largest concentrations of Wind Turbine farms in the world. Wind Turbines are basically big windmills that harvest energy from the wind. 
*The Northeast town of Dubuque is home to the National Mississippi River Museum and Aquarium. 
*Dyersville is home to the baseball diamond used in the popular movie,
Field Of Dreams
.
*We have a statewide event called RAGBRAI which stands for Register's Annual Great Bike Ride Across Iowa. Riders start on the west side of Iowa at the Missouri River and ride across Iowa (we're talking pedal bikes here) in a big race to the Mississipi River on the East side. The winner is the first one to dip his wheels into the river.