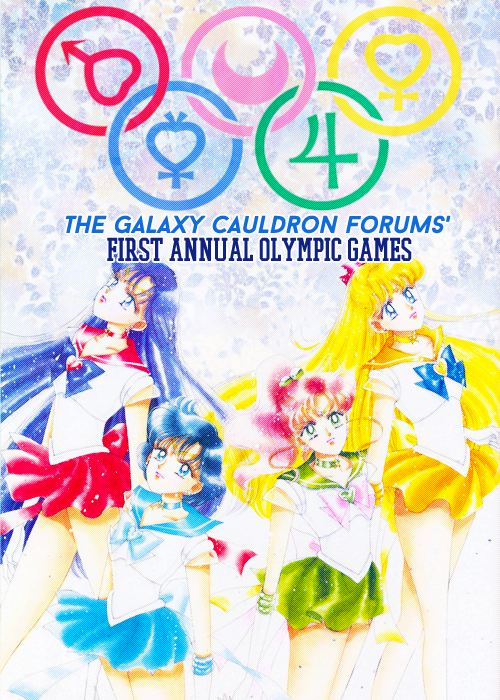 First and foremost, if you haven't signed up for this, you SHOULD. Do it now, right HERE.
Want to find out what you're actually signing up for? Read on!
The Games will officially start on
February 17th
but pre-game activities are already open.
Everyone who has signed up has been randomly assigned to a team, and for the duration of the Olympics Games this like your
family
. Your name will change to the color of your team and you'll be working together to win as many medals as possible. You each have you
very own special board
for you to chat and strategize in.You should also display your pride in your team with these awesome bumpers:
There is currently a Team Poster Design Contest, Team Uniform Design Contest, Senshi Design Contest, and Olympic Ring Contest.
Go ahead and start making plans with your teammates! We look forward to seeing everyone's designs!!
So how does it work?
A variety of activities will be taking place during the course of the Olympic Games, including a mix of flash games, forum-based games and puzzle/printable games, so there should be something for everyone! The more games you enter, the more chance you have at winning medals for your team. Encourage your team members to take part – T E A M  S P I R I T !!
Ok, ok, I'm taking part – but how does my team win?
Events will be judged by our impartial judges – Small Lady's Pinkateer's. Each event will have a Gold, Silver and Bronze place. The medals have a points based system, which at the end of the games, we will total up to determine the overall winner and champion of the games..
Gold
= 30 Points
Silver
= 20 Points
Bronze
= 10 Points
A medals/score table will be kept updated and be available to view in a special thread (which will be made when the games start).
The winning team at the end of the Galaxy Cauldron Olympic Games will be the team with the highest total score.
Sounds awesome! What are the prizes?
As mentioned, each event will be awarded a Gold, Silver and Bronze medal. You are encouraged to display your PERSONAL awards in your Signature, from your own wins (not your teams).
You can display them underneath your siggy picture, like this:
Quote :



0 x ¦ 2 x ¦ 1 x
Code that you can use:
Code:

[center]0 x [img]http://i62.tinypic.com/125nejq.png[/img] ¦ 0 x [img]http://i59.tinypic.com/apjz41.png[/img] ¦ 0 x [img]http://i58.tinypic.com/1p84e8.png[/img][/center]
This way you can contribute to your team, but also show off your awesome personal Olympian skillz.
Each event you participate in, you'll also receive a gorgeous bumper to add to your signature/bumper rotation.
The winning team will also get a totally awesome prize, and there MIGHT be some additional prizes at the end too. =p
Oooh is this like some sort of RP event?
No, not really, this isn't affiliated with the RP events in the RP section and it is not a requirement to roleplay during this event. HOWEVER, we encourage and will allow people to light roleplay as they play games (because this is for fun!) So if you want to come up with your own character or play as your own forum persona, feel free to do so! If you even get so inspired that you create a character with a doll maker, post it in your team's area to share with everyone!  
Sounds, awesome! Sign me up!
See, that's the spirit. Remember, you can sign up HERE and you'll be placed in your team.  
Take part, win points for your team, and have fun!
Now let the games begin!
(Thanks to SenshiRei for writing this and Small Lady for modifying it as needed!)