Located in between the United States of America and Central America, Mexico is known for their  festivals, food and historical locations, with Mexican Spanish as the most spoken language-though there is no official language on a federal level. This may be because there are as many as 68 regional languages spoken. The Aztec and Myan empire ruled over the nation until the 1500's when travelers from Europe-primarily Spain- came over and re-founded the nations capital from Tenochtitlan to Mexico City.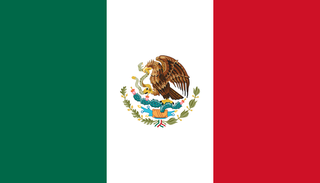 The official flag of Mexico went through various different versions, before the final design incorporated the nation's coat of arms in the center. This  final design was adopted in 1968, and the symbolism is heavily relent on the history of the nation. The green represents the independence movement, the white represents the purity of the catholic faith-the prominent religion practiced in Mexico, and the red represents the blood of the national heroes and the Spaniards that joined in their quest for Independence.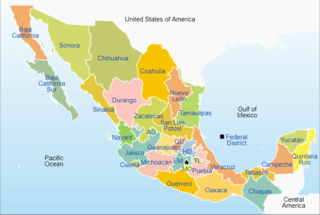 Mexico is broken up into 31 free and sovereign states, each with their own form of government-including congress, constitution, and judiciary. The citizens elect their governor by vote, and each have a six year term. The capital of Mexico is Mexico City, which is also know to be the largest city in the nation. 
The nation is divided into both temperate and tropical zones due to the Tropic of Cancer. Areas down south have a warm climate year round, while up north they are prone to cooler temperatures based on elevation. 
Their economy relies heavily on tourism, with 23rd highest income in the world from tourism alone in 2011. It is the most visited country in the American continents, second only to the USA. The notable attractions are their historical ruins from early civilization-particularly Myan and Aztec ruins-and their cultural festivals. The festival that gains the most international attention is the Dia de los Muertos-a festival in which they celebrate their departed family with parties and offerings in graveyards, dressing in exuberant costumes and baking skull-shaped sweets. 
Wow! That was a lot of information! Do you think you're ready for the quiz? Just copy the questions below and PM them to me. Get all of them correct, and you win a prize! Do not post your completed quiz in the thread! 
You have until the end of the festival, October 1st to get your entries in. 
Quiz!:
Thank you for reading this! I hope you learned a lot of new things about Mexico! Enjoy the rest of the Mexico-themed activities, and have fun with the rest of the Galaxy Cauldron's world fair!