USAGI "CHIBIUSA" TSUKINOGENERAL INFORMATION
(Credit: Wikipedia.org)
Creator Naoko Takeuchi describes Chibiusa as a precocious brat who likes pulling pranks. She is the daughter of Usagi Tsukino and Mamoru Chiba. Her real name is the same as her mother's, but she called Chibiusa in Japanese (and Rini in English) to avoid confusion between the two. Her name in the English-language version of Sailor Moon, Rini, is a diminutive of "Serena", the name of her mother. She is known for having pink hair put into a unique style that resembles rabbit ears on top of her head.
Chibiusa's dream is to one day become a real lady, to have her own prince, and to be friends with everyone she knows. Meanwhile, she is a fairly ordinary little girl; she likes pink and red, pudding, pancakes, and rabbits. Her favorite school subject is drawing, while her least favorites are language classes. Her least favorite food is listed in the manga as carrots, just like Usagi, but they both eat them in the anime. Chibiusa hates taking care of the house and is afraid of such things as thunder and lightning, ghosts, vampires, dentists, and needles.
STATISTICS
(Credit: The Oracle BSSM Encyclopedia)
Name: ChibiUsa Tsukino
Birthday: 30 June
Astrological Sign: Cancer
Blood Type: O
Hobbies: Magic Tricks
Favorite Color: Red
Favorite Class: Manual-Arts Class
Least Favorite Class: Language Arts
Favorite Foods: Pudding
Least Favorite Food: Carrots
Hopes To Go To: The Moon
Habit: Upward glance
Special Skill: Pink Sugar Heart Attack
Pet she wants to raise: A rabbit
Dislikes: Ghosts
Motto: "I am a graceful lady."
Favorite Stone: Diamond
ANIME
(Credit: Wikipedia.org) (Photo credit: mirtillo on Minitokyo.net)

In the anime, Chibiusa is more judgmental and does not mature as much as her manga counterpart. She often picks on Usagi for being so scatterbrained. In the Supers movie, she describes Usagi as "a klutz, a ditz, and a crybaby." However, there are many instances where Usagi and Chibiusa show their love and concern for one another, such as when Sailor Moon breaks down crying after Mistress 9 takes Chibiusa's pure heart crystal, or when she dives off a balcony to save her. Nevertheless, the two often bicker, often behaving more like sisters than mother and daughter.
MANGA
(Credit: Wikipedia.org) (Photo credit: Rikio on Minitokyo.net)
Chibiusa is usually very upbeat, extroverted and outgoing. Though she started out socially awkward, she quickly became popular with her classmates. In the manga, she once became president of her class. Her initial shyness could be attributed to the fact that she was teased in the 30th-century for not having any Senshi powers. As the manga progresses, she gradually matures, becoming more comfortable with herself and more confident with her Senshi abilities. Because her dream in the manga is to become a beautiful lady, her actions often are based around this. She tries to be a perfectionist and starts off trying to do everything alone and for herself. This view evolves as she realizes what maturity really is and what it really means to be an adult.
In Act 20 of the manga, it's mentioned that she is 900 years old, her youthful appearance attributed to the fact that she suddenly stopped growing when she was five. The reason for this is never fully understood, but she begins to age after she becomes Sailor Chibi Moon. By the time of the Dream story arc, she claims to be 902.
SERA MYU
(Credit: Wikimoon.org) (Clip Credit: lemonsquare)
In the musicals, Chibusa was portrayed by Ai Miyakawa, Mao Kawasaki, Natsumi Takenaka, Tamaki Shirai, Ayano Gunji, Arisu Izawa, Kasumi Takabatake, Noel Miyazaki, Aisha Yamamoto, Nanami Ohta, Mao Ohno, Mina Horita, and Moe Oosaki. The longest-running actress to portray Chibusa was Ayano Gunji. Mao Kawasaki, one of Chibiusa's former actresses, later returned to portray Black Lady in "Tanjou! Ankoku no Princess Black Lady" in 2001. Chibiusa's image songs were "Matamata Chibiusa Desu," "Pinky Typhoon," "Chibiusa no Hanran," and "Chibiusa no Kokoroiki." She also shared a duet with Black Lady in "Tanjou! Ankoku no Princess Black Lady" called "Kono Kodou Kara Yoru wa Umarenai."
"Matamata Chibusa Desu"
performed by Ai Miyakawa in "1994 Summer Special Musical, Sailor Moon S - Ai no Senshi e no Michi"
SAILOR CHIBIMOONANIME
(Credit: Wikipedia.org, The Oracle BSSM Encyclopedia) (Photo Credit: The Oracle BSSM Encyclopedia)
Forms: Sailor Chibimoon, Super Sailor Chibimoon
Items: Luna P, Key of Space-Time, Ginzuishou (of the future), Prism Heart Compact, Pink Moon Stick, Chibimoon Compact, Crystal Carillon, Stallion Reve, Golden Mirror, Chibimoon Kaeidoscope
Attacks: Luna P Transform, Luna P Magic, Pink Sugar Heart Attack, Twinkle Yell, Moon Gorgeous Meditation
MANGA
(Credit: Wikipedia.org, The Oracle BSSM Encyclopedia) (Photo Credit: vyvit on Minitokyo.net)
In the manga Sailor Chibi Moon's powers are significant, able to destroy and kill enemies. She attacks in tandem with Sailor Moon, often combining attacks with her, and combining one with Tuxedo Mask. Late in the series, it is heavily implied that she will marry her own prince in the future, Helios. She also develops and matures as a Sailor Soldier throughout the manga, assisted by her own guardians, the Sailor Quartet, and eventually saving Sailor Moon's life.
Forms: Sailor Chibimoon, Super Sailor Chibimoon, Eternal Sailor Chibimoon
Items: Luna P, Key of Space-Time, Maboroshi no Ginzuishou, Cutie Moon Rod, Moon Rod, Holy Grail, Crystal Carillon, Chibimoon Kaleidoscope, Chibimoon compact, Pink Moon Crystal
Attacks: Abracadabra Pon, Garlic Attack, Moon Princess Halation, Pink Sugar Heart Attack, Ranbow Double Moon Heartache, Pink Sugar Tuxedo Attack, Twinkle Yell, Moon Gorgeous Meditation, Double Starlight Honeymoon Therapy Kiss, Pink Ladies Freezing Kiss
SERA MYU
(Photo Credit: Sera Myu Antics) (Clip Credit: eternalruth)
Noel Miyazaki as Sailor Chibimoon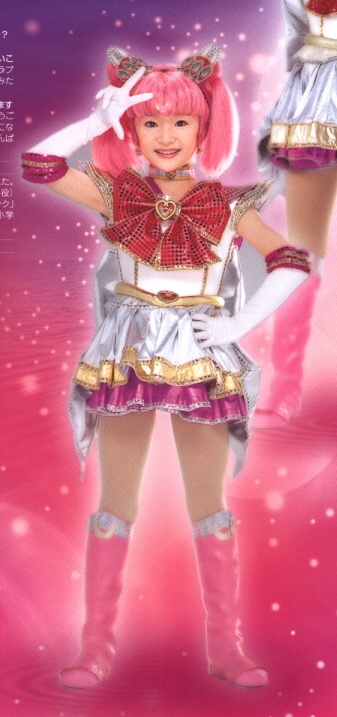 "Pinky Typhoon"
performed by Moe Oosaki in "2004 Summer Special, Shin Kaguya Shima Densestu"
PRINCESS USAGI SMALL LADY SERENITY
ANIME (Credit: Wikipedia.org) (Photo Credit: Sailormoon.Wikia.com)
In the anime, it's not told where she got the name from, but it is only used by the royal family and friends. She mainly goes by Chibiusa, even to the point where in the 20th century she asks Setsuna to call her Chibiusa instead of Small Lady. Also in the anime, Chibiusa changes into her princess form when she needs more power than her Senshi or civilian forms allow, similar to how her parents can become Prince Endymion and Princess Serenity when they need more power. In this form, she wears a dress and jewelry identical to that of Princess Serenity, albeit smaller. This happens twice, during the final battles of the second and fourth series. Like her mother, she grows a pair of functioning, angelic wings during the Supers climax. She does this after Usagi, as Serenity, grabs her while they are falling, and the two of them collide with Pegasus. It is unknown if she grew the wings on her own or with Usagi's or Pegasus' help. The Chibiusa of the future, Small Lady, is also shown in her princess dress when she is not transformed, so this form is not exclusive to power-ups.
MANGA
(Credit: Wikimoon.org) (Photo Credit: Snowdrop, BSSM Fansite)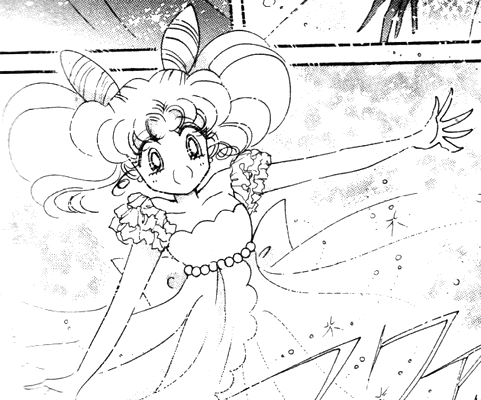 In the manga, this was the name given to her by her parents so she often uses this to identify herself in the future. The only other character to use it, besides the royal family and its friends and allies, is Diana, who periodically calls her by Small Lady and uses honorific endings to indicate that Chibiusa is a princess.
SERA MYU
(Credit: Wikimoon.org) (Clip Credit: innocentami)
Small Lady makes her first and only appearance in "Kaguya Shima Densetsu (Kaiteiban)" and is portrayed by Gunji Ayano.
For those of you who care to watch, here is a clip of the Royal Family in the 30th century. The "Royal Family scene" ends around 3:10 mark. (This clip features Fumina Hara as Neo-Queen Serenity, Ayano Gunji as Small Lady, and Yuuta Mochizuki as King Endymion.)
BLACK LADYANIME
(Credit: Wikimoon) (Photo credit: blamspam on Minitokyo.net)
In the anime, Chibiusa travelled to the future with the Sailor Senshi and once there, heard King Endymion tell them that the Silver Crystal disappeared shortly before the Black Moon Clan attacked. Thinking that it was her fault that the Crystal vanished, and thus her mother was hurt, she became upset and ran away, leaving the shield around the Crystal Palace. Wiseman found her there and began showing her illusions that made her think that everyone blamed her for what happened. He told her that he could convince everyone that it was not her fault, and by taking advantage of her emotional weakness, used his power to transform her into Black Lady. The first time Sailor Moon encountered Black Lady, she tried to use the Silver Crystal to turn her back; it almost worked, but Wiseman appeared in time and persuaded her that her memories were not real and her friends and family did not really care about her. When Sailor Moon tried again later, Black Lady deflected the Silver Crystal's power and was unaffected by it. In their final battle, Black Lady attacked Sailor Moon, but Tuxedo Mask protected her and took the blast. Black Lady was stunned by this selfless act, and the Senshi tried to convince her of their love for her. Wiseman attacked in an attempt to stop them, but Sailor Moon managed to use the power of the Silver Crystal to transform into Neo-Queen Serenity, her future self. Sailor Moon and Tuxedo Mask together overcame Wiseman's power and convinced Black Lady to transform back to Chibiusa.
MANGA
(Credit: Wikimoon) (Photo Credit: Snowdrop, BSSM Encyclopaedia)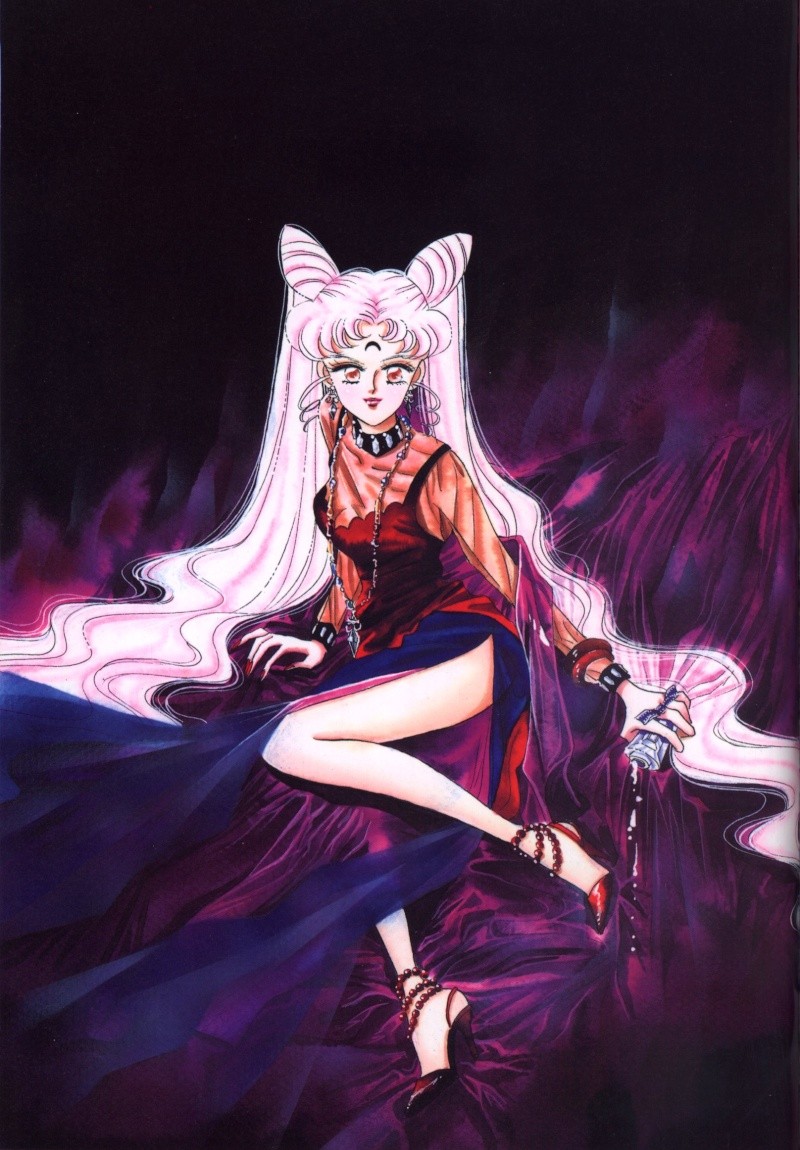 In the manga, Chibiusa accidentally dropped her Time Key and wandered into the Fourth Dimension. When she became lost and scared, she decided to return but found she no longer had her Key. Wiseman confronted her and lured her to him preying on her loneliness. She took on her new form as Black Lady and gave the future Silver Crystal to Wiseman - though he was unable to use it. Mamoru had followed Chibiusa into the storm in the Fourth Dimension and he became trapped in the spell of the Black Moon as well.
It was Black Lady that called forth the true form of Wiseman, the planet Nemesis, then commanded Mamoru, now under the power of the Dark Moon, to take Sailor Moon's brooch and Silver Crystal of the 20th century. Prince Dimande took the crystals from Black Lady and planned to touch them together, resulting in the destruction of everything. However, Sailor Pluto used her forbidden power Time Stop to keep the crystals from coming in contact. Because this was taboo, she died. Seeing Pluto die caused Black Lady to remember who she truly was and awakened her powers as a Sailor Senshi, Sailor Chibi Moon.
SERA MYU
(Credit: Wikimoon.org) (Photo Credit: Sera Myu Antics) (Clip Credit: eternalruth, Miss Dream)
Shion Nakamaru as Black Lady
In the musicals, Black Lady was played by Mao Kawasaki, who formerly portrayed Chibiusa, and Shion Nakamaru. Her image song was "Black Moon Signal," and she shared a duet with Chibiusa, "Kono Kodou Kara Yoru wa Umarenai."
"Black Moon Signal"
performed by Mao Kawasaki in "2001 Summer Special, Tanjou! Ankoku no Princess Black Lady"
"Kono Kodou kara Yoru wa Umarenai"
performed by Mao Kawasaki and Noel Miyazaki in "2001 Summer Special, Tanjou! Ankoku no Princess Black Lady"
FANDOM PAIRINGS
Chibiusa x Helios
I like this pairing. It's cute, sweet, and endearing! (Although I must admit that I did not appreciate seeing Chibiusa have a crush on Helios in his unicorn form, but I regress.) Chibiusa and Helios just so adorable together!
Chibiusa x Hotaru
Now, I am all for crack ships, but I really don't understand this one! They're just friends and nothing more!
Chibiusa x Perle (Peruru)
I think that Chibiusa and Perle are very sweet together. I like them as a couple, but not as much as I like Chibiusa and Helios as a couple.
PERSONAL OPINION
I like Chibiusa a lot! In fact, I think that she in one of the most under-appreciated characters in the Anime. Sure, she can be bratty at times, but I also think that she is witty and charming. Besides, aren't most kids bratty anyway? (;
Okay, I'm finished for now! Go ahead, show some love for Chibiusa!